At Harrow Drum School we're proud to offer a wide variety of curricula that can even be custom tailored for your current skills and level.
We're working from some of the world's most widely recognised and used books and materials.
On request we're also happy to work with you towards Trinity Drum Grades from 1-8.
Harrow Arts Centre is one of the Trinity Exam Centres in the area, so the exams can be organised within the complex.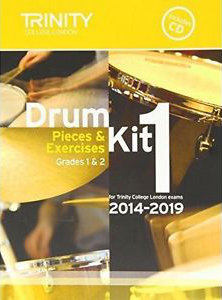 Harrow Drum School Terms and Conditions for enrollment on our courses
– Commit to at least a school term of study with us, which is three months
– Payment for lessons can be made for the entire 3 month term or monthly – on or before the first day of the month prior to lesson
– In case of missed payment lessons are not going to be held until we receive your bank transfer
– It's the students'/parents' responsibility to turn up on his/her lessons on the right day and time
– We'd be sad to see you go, but if you have to leave us, we request 1 month cancellation in writing
– In case your allocated teacher is away on tour or family commitment, we will guarantee a deputy teacher of the same calibre
– In case it's not possible to arrange a deputy teacher, we're going to reschedule your lesson
– Lesson slots can only be changed with a minimum of 48 hours written notice
– If the student doesn't show up for the lesson, he's still going to be charged for it
– In case of sudden illness, the lesson can be rearranged if you can provide us with medical certificate from the doctor
Packages:
1-to-1 60 mins lesson £45
1-to-1 60 mins Skype Lesson £45
1-to-1 30 mins lesson £30
Group of two 30 mins lesson £25
Group of three 30 mins lesson £20
Group of two 60 mins lesson £38
*All packages are subject to student numbers and availability.
HDS Gift Vouchers are also available on request!
Do you want to surprise someone special with a one off lesson or a series of three or five lessons for birthday or Christmas?
Look no further and make your booking via the CONTACT Menu NOW!